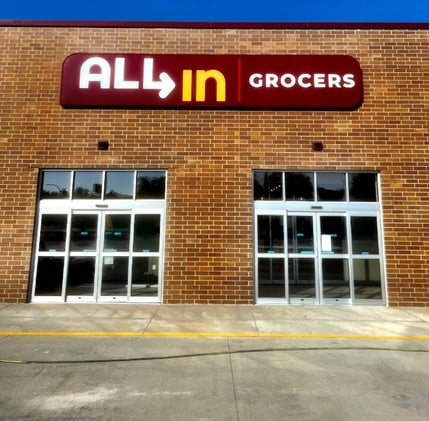 Arlington, VA (August 23, 2023) - Rochdale Capital, a community development loan fund whose mission is to promote cooperative and community ownership; advance equity, diversity, and inclusion; and provide capital access in under-resourced communities, closed a $412,000 revolving line of credit to ALL-IN-GROCERS located in Waterloo, Iowa. The loan will cover final construction costs and provide working capital after the store opening in October 2023. Prior to the line of credit, ALL-IN-GROCERS received financing from Self-Help Credit Union, IFF, and other local and national lenders to support the store's real estate development and operations.
Located in Waterloo's northeast side, an area where a majority of the city's Black residents live, ALL-IN-GROCERS will be a 20,000 square foot, full-service grocery store that will provide fresh fruit and vegetables in a defined USDA food desert. The location of the new grocery store will address the lack of access to basic needs and improve the quality of health and standards of living in the community. In addition to the new grocery store, the site also includes Grandma's Hands, a family style restaurant; Clean Laundry laundromat, and the 1619 Freedom School, a free community-based, after-school literacy program.
"The main challenge to a community that has not seen investment dollars in decades is finding that right financial partner who truly understands the journey ahead," stated Rodney Anderson, Co-Owner of ALL-IN- GROCERS. "The team at Rochdale Capital was the perfect fit to finalize the 7- year battle our project took to complete."
Once complete, ALL-IN-GROCERS will create approximately sixty permanent full-time and part-time jobs for people of color that live in the community. This project is the first major development on the eastside of Waterloo in over 54 years.
"It has been an honor for us to partner with Rochdale Capital," stated Lance Dunn, Co-Owner of ALL-IN-GROCERS. "Their level of professionalism and their passion to serve under-resourced communities is second to none. After sharing the ALL-IN-GROCERS story and vision, Rochdale Capital got us to the finish line to make this historic development a reality."
"Access to healthy and affordable food is essential for a thriving community," stated John Holdsclaw IV, President, and CEO of Rochdale Capital. "As a community loan fund with a mission to serve under-resourced areas, we are proud to work with ALL IN GROCERS in providing the necessary funds to complete construction of the new grocery store and combat food insecurity."